Our Values
We've worked hard to create a company that navigates business with integrity and curiosity. We try new things, reject mediocrity, and do the right thing — even when nobody's looking.
Raise the Bar
Challenge complacency and mediocrity. Be adaptable and agile.
Be as One
Trust, collaborate, and support each other. Invest in coworkers and customers.
Own It
Be self-driven, entrepreneurial, and efficient.
Do the Right Thing
Act with integrity, even when no one is looking.
Empower Customers
Create solutions where customers win.
Embrace Curiosity
Always be learning. Be curious and share. Be humbled, but not embarrassed by mistakes.
Show Up As You Are
Risk is a team sport, and the strongest teams are made up of diverse talent. So we've worked hard to create an environment where everyone feels safe bringing their most authentic self to work.
Diversity, Equity, Inclusion & Belonging
DEIB is a priority for us at LogicGate — it is at the foundation of all of our core People programs and activities. We incorporate these concepts into our business practices to ensure we walk the walk.
Employee Resource Groups
We encourage everyone to join one of our Employee Resource Groups (Women in LogicGate and Pride @ LogicGate) to participate in and contribute to conversations that foster a culture of belonging.
A Culture that Values Unique Voices
Different worldviews, backgrounds, ideas and experiences make for a better, stronger business. We hire people who bring their unique and collective experiences and perspective to the table.
The Benefits of Being a LogicGate-er
We offer competitive salary, a 401(k) match program, and health and wellness benefits — but who doesn't? To take things to the next level, we worked with our team to assemble a Total Rewards Package anchored on holistic well-being to support you both at work and outside of it. (Because we do want you to have a life outside of work.)
47 days off starting your first year, including paid volunteer time
12 weeks parental leave
$1,000 annual educational stipend
Ongoing learning and development
Stock options and annual performance bonus opportunities
Work From Your Happy Place
We are an outcomes-first company. Our success comes from our high-performing teams — so we let them work wherever they are. If you work with us, we give you the autonomy and flexibility to work from anywhere, including our LogicGate headquarters in Chicago.
Remote
We want the best people to come work with us regardless of where they live. Remote team members work from home for the majority of the time.
Hybrid
We care how you work, not where you work. Hybrid team members work from our office 1-3 days per week.
In-Office
Miss the water cooler convos? Need an excuse to get out of the house? We've got you covered. Team members have the option to work from the office 4-5 days per week.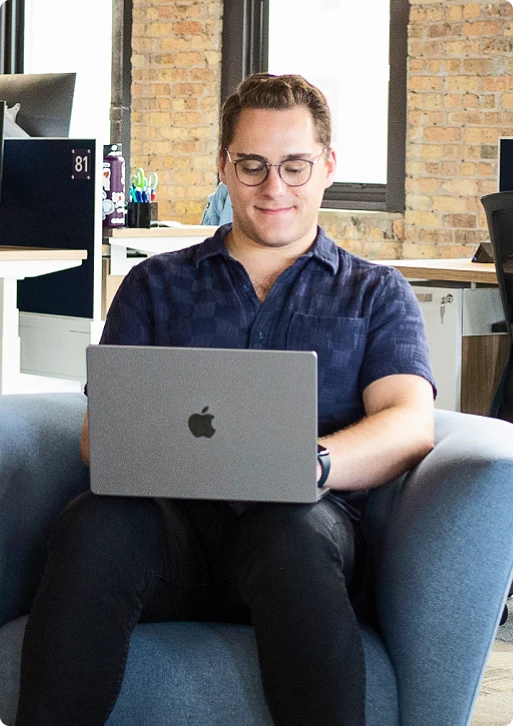 Join the Team
Are you fired up by what you're reading? Want to learn more? We're excited to meet people who share our mission, vision and values. Check out our postings to find your next role and let's connect to see what we can create together.
Open Roles
We're always looking
out for the
best talent
Can't find the perfect role? Tell us a little about yourself and we'll email you when there's an opening that might be a good fit.
Keep in Touch
Learn More About What We Do
Ready to see where LogicGate's Risk Cloud® can take you?
Request a Demo